Get a preview of what your OTT Channel website can look like with subscription channels, PPV live events and more.
We've set up a Demo OTT Channel site so you can see what your own OTT Channel website can look like in just minutes. Everything we've done here can be set up inside your Endavo OTT Channel dashboard on your own: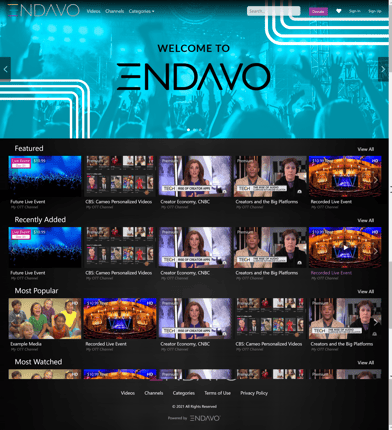 CLICK HERE to see our OTT Channel demo website.
Notice we have added some additional home page banners that promote and link to specific channels and events. You can link to any internal area or also add external links if you'd like to promote external pages.
CLICK HERE to learn more about adding home page banners.
Notice we added our logo to the site. There are other features and settings you can edit to customize your OTT Channel website to fit your needs and brand.
CLICK HERE to learn how to add your logo to your OTT Channel website.
We also set up a few things on our demo site that we'd to point out specifically:
Subscription (SVOD) Channel - We have set up a channel that is available to viewers by subscription. We had to set up our payment gateway before creating and adding a subscription channel - LEARN MORE.
PPV Live Event with Interactive Hub features activated. Sell tickets in advance of your live event with a countdown to showtime. Activate multiple interactive features, including live chat, Zoom integration, social wall, donations and more - LEARN MORE.
Recorded Live event with VOD Rental. Sell access to your recorded live event through one-time rentals and/or offer free to your channel subscribers (that's what we have set up).