Create eye-catching banners for your home page to wow your viewers, or try a clickable banner to direct your viewers to internal or external content.
Banners and Banner Groups are used for home page banner carousels for your OTT Apps.
Use the Banners section to manage your banner inventory.

IMPORTANT TIP -

Banners must be active and added to a

Banner Group

in order to be published on an

App's home page carousel. Also a Banner Group needs to be added to App Options > Homepage Slider.
Use the Banner Groups section to create and manage your home page banner carousels. Banner Groups get assigned to Apps in App Options.
Banners
Add Banner - To add a new banner, click Add New from the Banners page, complete the form.
TIP - Use 1920 x 685 image for Banners. Please note that the system will distort (stretch) images that are not the correct dimensions.
Title and Source are required (choose Image Upload if uploading from your local device)
Check Active box if you want your banner to be published once assigned to a Banner Group.
Assign to Banner Groups if you want your Banner to be displayed on Apps that have the desired Banner Group(s) assigned.
To upload file for your banner, click Choose File and select your file to upload
Banner Size - The recommended size for all uploaded Banners is 1920 x 685. The platform uses various banner sizes for our apps, but EMMS will automatically create additional sizes that are checked when adding banners. Check all the size boxes if you want to use the same banner for all sizes. You can also add different banners for each size if desired.
Banner Links - Click Link To to create a clickable banner link that will direct the viewer to specified internal areas of your site or app or to choose External Link to direct viewers to external websites and pages. Note that external links will not work for all apps (e.g., Roku).

Click Save when finished.
Banner Groups
Banner Groups are used by your Apps to display banner carousels on the home page. To add a Banner Group, click Add New on the Banner Group page, give your Banner Group a name and click Save. It's a good practice to name your Banner Group based on where the group will be applied (e.g., Main Banner Group or TV Apps Banner Group).
Once Saved, you can add Banners by Clicking Add New on the Banner Group form, or you can assign Banners directly to Banner Groups in the Banner Form.
You can reorder Banners in your Banner Group 2 ways: 1) drag banners in the Banners list to desired order then click Done; 2) edit the numerical Order Index and click Update Order.



Add Banner Group to Apps
Assign a Banner Group to any App by editing App Options assigned to the appropriate App(s) (Click Here to learn more about editing App Options).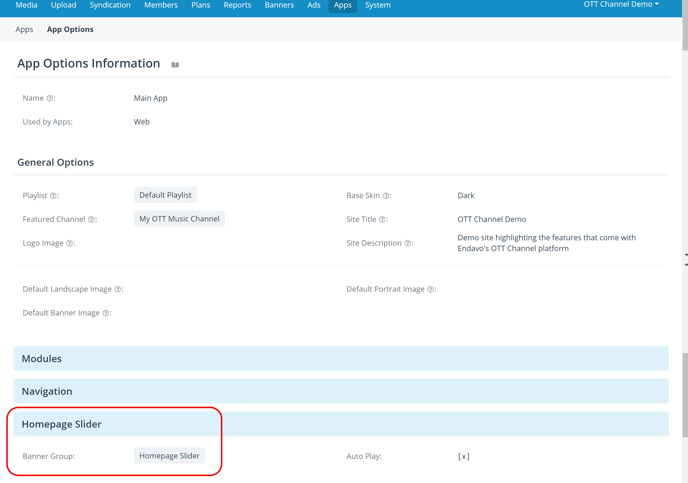 Thanks for reading! Check out our resources and blog on our website to get more helpful tips, use cases, and creative ideas for building your OTT business.