Create Channels for your Content Library for the best user experience and discovery.
Channels are the primary way we organize content and playlists in EMMS. Every media item, including live events and episodic content, must belong to a channel. You can CLICK HERE to learn about how the Endavo platform structures content
Easily add new channels and manage content in your channels:
IMPORTANT NOTE: Add any new channels before uploading and activating new content for your new channel. A Channel must already exist in EMMS before a Media Item or Series can be added to a channel when activating or editing.
Add a new channel by clicking Add New on the Channels list page. Edit an existing Channel by clicking on the Channel Name > Edit OR click Edit to the right of the Channel name.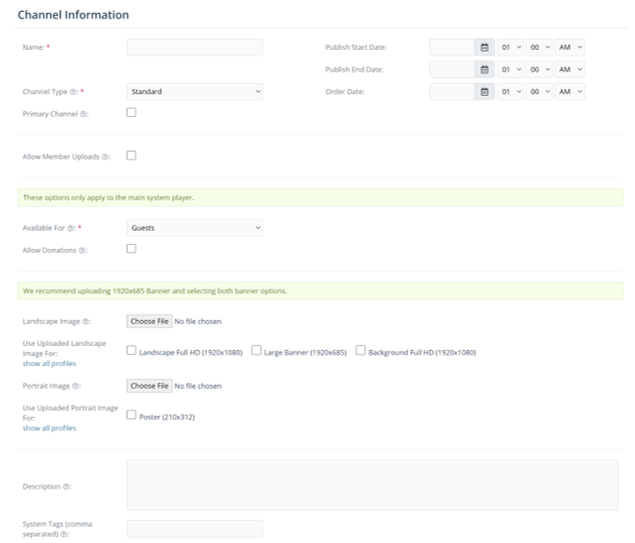 On the Channel Information form, certain fields are required:

Title
Channel Type

Standard - Most channels fit this type.
Season - Only use this type if you are adding a new Season to an Existing Series (episodic). Note: The Series must exist in EMMS before you can add a Season.

Available For:

Guests - If you want the channel to be freely accessible by anyone visiting your apps.
Members - If you want to limit access to registered users but without a paywall.
Members with Subscriptions - If you want to put your channel behind a subscription paywall.

Publish Dates - If you want your channel to be published within a specific release window, you can set publish start and end dates
Images - Upload your channel graphics for your channel to be used by your apps.

Landscape - Upload a 1920 x 1080 image and select landscape image profiles. This image is used for the channels page, carousels, and player page for the channel. Also used for some backgrounds on TV apps. (Advanced: You can upload different images for each specific size if desired).
Banner - Upload a 1920 x 685 image and select banner profiles. This image is used for your channel page and certain channel backgrounds on TV apps.
Portrait - If you plan to use portrait channel images on your apps, you will need to add portrait images. (Note: Our standard apps do not use portrait images, but custom apps can use them if desired.)

Description - Add as much descriptive copy as desired, including external web links. Note: Adding descriptive copy can help with SEO.

Edit Channel by clicking on the Channel name on the Channels page and clicking Edit. Click Done to save changes.
Add content to your channel by adding the Channel to Media Items during activation or edit on the Media Information page.

Channel Content Order
- Once you have added content to your channel, you can reorder videos on the Channel Information page (bottom of page). You can update the order in 2 ways:

Drag and drop the files into the order you desire, then click Done (Note: The first video in your channel can be locked in the first place spot. Unlock if you want the most recently added video to be the first place spot); OR
Reorder the numerical Order Index, then click Update Order.
Thanks for reading! Check out our resources and blog on our website to get more helpful tips, use cases, and creative ideas for building your OTT business.