Getting started with Endavo? We are here to help and guide you through the process.
Submit your information on our contact page to set up a product demo, get pricing, and let our team walk you through the Endavo platform's tools and features that will be most valuable to you. If you're already familiar with the platform and want to start your OTT Channel, you can create a free 30 day trial account to get started instantly!
Create a Free OTT Channel Trial Account 🖥️
Submit your information here to begin your 30 day free trial on Endavo's platform. Click Start Your Trial to sign up and get instant access with zero obligation.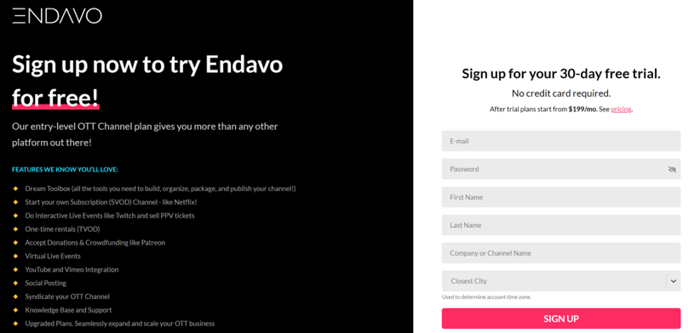 Or if you need more in depth OTT planning:
Schedule a Demo with an Endavo Team Member 👋
We're eager to discuss your video strategy goals, and provide a walkthrough of the Endavo platform! Submit your information here, and we'll be in touch shortly to schedule a demo.
Thanks for reading! Check out our resources and blog on our website to get more helpful tips, use cases, and creative ideas for building your OTT business.