After setting up a live event or virtual live event with live slots in EMMS, this article will help you set up your OBS software to connect with Endavo servers.
There are many encoders compatible with the Endavo platform. OBS (Open Broadcaster Software) is an open source live streaming and recording software that is widely used in the market for live streaming.
The installer for OBS can be downloaded from the OBS website for different platforms: https://obsproject.com/es/download
OBS has many options and settings. The following instructions are only related to audio and video encoding. For more general information on OBS, you may follow this link: https://obsproject.com/wiki/Home
Once OBS is installed and you've set up your live event in EMMS, open OBS and choose File -> Settings and select the Stream section. Then enter the Stream Server and Stream Key fields obtained from your live event page in EMMS. NOTE: Do not use RTMP authentication.
The followings are the encoding specifications for 1080p stream and can be set up in the Output section of OBS:
Video Encoding: Codec: H.264, High Profile, 2 key frames/s (important), Frame size: 1920x1080, Frames per second: from 24 to 30 fps (use the same fps as the input signal to the encoder), B-Frames: 4.
Approx. video bit-rate: 4000 kbit/s (to be optimized depending on the video content and encoder efficiency).
The encoding rate control can be either CBR or VBR with a maximum bit-rate of 10% more than the average.
Audio Encoding: Codec: AAC-LC
Approx. audio bit-rate: 96 to 128 kbit/s (use a higher bit-rate for high quality music content and lower for voice only)
To setup these parameters on OBS, select the Output section. Then select the Encoder based on the hardware on your computer, Rate Control, Bitrate, Max Bitrate (VBR only), Keyframe Interval, Profile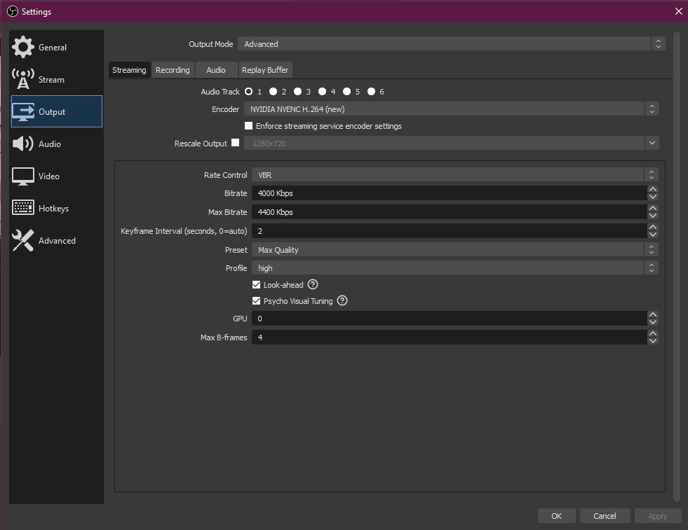 The Audio Bitrate can be set by clicking on the Audio button in Output section:

The resolution and frame rate can be set by going to the Video section:
Once you have a live event set up in EMMS and your local encoding software set up to connect with and stream to Endavo servers, you can test your streaming connection by clicking Test Live Ingest at the bottom of your live event page in EMMS.
Thanks for reading! Check out our resources and blog on our website to get more helpful tips, use cases, and creative ideas for building your OTT business.