Review and moderate incoming content from channel partners, member uploads, live recordings and batch uploads.
The Moderation feature is used if you would like to review and approve incoming content before it gets activated in your account and becomes available for published playlists.
For incoming channels and content, such as Endavo Imports, on the edit screen you will see Moderation Status selection:

Check Auto-Approved if you do not want to moderate (approve or reject) content from this channel before it get published in its channel on playlists where channel is added.
Check Pending if you want review and approve/reject content before it becomes active in playlists.
Go to the Moderation tab to see a list of all content that is waiting for moderation.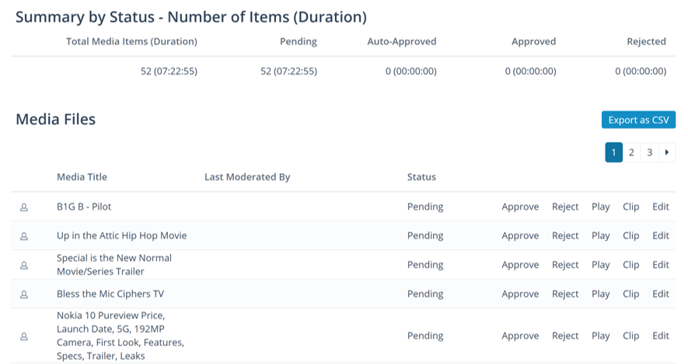 On the Moderation page, you can play, approve, reject, edit and even clip video awaiting moderation.

Once a video is approved, it will be published in its channel if channel is added to any playlist.
If pending or rejected, the video will not be published in any playlist unless status is changed on Media Item edit form.
Thanks for reading! Check out our resources and blog on our website to get more helpful tips, use cases, and creative ideas for building your OTT business.